Ofsted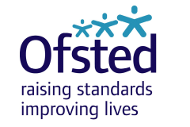 Ofsted is the Office for Standards in Education, Children's Services and Skills. We inspect and regulate services that care for children and young people, and services providing education and skills for learners of all ages.
Contents
Who we are
Our responsibilities
Our priorities
Corporate information
Every week, we carry out hundreds of inspections and regulatory visits throughout England and publish the results online.
Our goal is to achieve excellence in education and skills for learners of all ages, and in the care of children and young people.
We report directly to Parliament and we are independent and impartial.
We aim to be "a force for improvement through intelligent, responsible and focused inspection and regulation" (Ofsted 2017 to 2022 strategy).
Who we are
We have around 1,700 employees across our 8 regions:
East Midlands
East of England
North East, Yorkshire and Humber
North West
South East
South West
West Midlands
London
We also directly contract with more than 1,500 Ofsted Inspectors to carry out inspections of schools and further education and skills provision.
Ofsted is a member of the National Preventive Mechanism, which monitors and reports on places of detention.
Our responsibilities
We're responsible for:
inspecting maintained schools and academies, some independent schools, and many other educational institutions and programmes outside of higher education
inspecting childcare, adoption and fostering agencies and initial teacher training
publishing reports of our findings so they can be used to improve the overall quality of education and training
regulating a range of early years and children's social care services, making sure they're suitable for children and potentially vulnerable young people
reporting to policymakers on the effectiveness of these services
Our priorities
From 2017 we will ensure that:
all of our work is evidence-led
our evaluation tools and frameworks are valid and reliable
our frameworks are fair
we aim to reduce inspection burdens and make our expectations and findings clear
we target our time and resources where they can lead directly to improvement
You can find out more about our priorities in the Ofsted 2017 to 2022 strategy.
Corporate information
Access our information
Jobs and contracts
Read about the types of information we routinely publish in our Publication scheme. Our Personal information charter explains how we treat your personal information. Read our policy on Social media use.